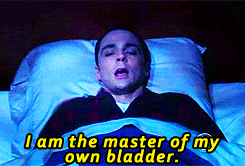 Today I went to the emergency room because for the past three days, there have been a lot of blood in my urine, sometimes even with some blood clots. At first, I thought that it was artificial coloring from something I drank or ate. Then I thought that it had to do with the vitamins and calcium that I must take for the rest of my life, because of the sleeve gastrectomy surgery I had eight years ago to lose weight, due to health complications.
So, this morning I was really concerned, because there was still a lot of blood in my urine. They did blood and urine tests but didn't find any bacteria or anything to be alarmed with. The doctor gave me antibiotics for one week and referred me to a urologist, to try and find out what's exactly going on.
The doctor also told me to make sure that I drink a lot of water, since I admitted that I don't drink enough on a regular basis.
With that said, I am Audi 5000 y'all!